The Classical and Jesuit Erudition of Stefan Iavorskii in His Panegyrics to Varlaam Iasinskii
Bartosz Awianowicz

Nicolaus Copernicus University, Faculty of Humanities, 3, Fosa Staromiejska, Toruń, 87-100, Poland
Аннотация
This article offers an overview of the Greco-Latin and early modern Jesuit sources of Stefan Iavorskii's (1658–1722) three bilingual panegyrics addressed to his patron Varlaam Iasinskii, rector of the Kiev-Mohyla college (1669–1689), the Orthodox metropolitan of Kiev (1690– 1707), Hercules post Atlantem infracto virtutum robore honorarium pondus sustinens published in Chernihiv in 1684, Arctos Caeli Rossiaci in Gentilitiis Syderibus and Pełnia nieubywaiącey chwały w herbowym xiężycu (The Plenitude of Inexhaustible Glory in the heraldic moon), published in Kiev in 1690 and 1691. Both these works are prosimetric bilinguals (some sections are in Latin, others in Polish), testifying to a significant classical erudition of their author. However, Hercules is one most traditionally "classical" in its dispositio and elocutio, while the style of the other two, written after Iavorskii's educational journey through Jesuit schools in the Polish-Lithuanian Commonwealth, is much more innovative, highly metaphorical, allegorical, relying on the argumentation of surprise (based on acumen- and argutia-theory expounded in the rhetoric of Jan Kwiatkiwiecz) and emblems due to an extensive use of combinations of multiple pictorial-verbal themes (especially in Pełnia).
Скачивания
Данные скачивания пока недоступны.
Литература
A. Sources
[Aphthonius] Aphthonii Sophistae Progymnasmata, partim a Rodolpho Agricola, partim a Ioanne Maria Cataneo Latinitate donata, cum luculentis et utilibus in eadem Scholiis Reinhardi Lochichii. (sic!) Hadamarii, Lugduni, Sumptib. Iacobi Carteron, 1640.
[Horatius expurgatus 1613] Quinctus (sic!) Horatius Flaccus, ab omni obscoenitate Romae expurgatus, München, ex typographeo Bergiano, 1613.
[Horatius expurgatus 1652] Quinctus (sic!) Horatius Flaccus, ab omni obscoenitate Romae expurgatus. In usum Gymnasiorum Societatis Iesu, Dilingen, Formis Academicis, 1652.
Jaworski S. Arctos caeli Rossiaci in gentilitiis syderibus Illustrissimi ac Reverendissimi Patris, Patris Barlaami Iasinski, (…) Kijoviensis Halicensis etc. Orthodoxi Archiepiscopi Metropolitae, ad auspicatissimum eius solennique apotheosi celebratum ingressum in Cathedram Metropolitanam Kijoviensem intra communem Orbis Roxolani laetitiam sereno vultu resplendens. Kiev, 1690.
Jaworski S. Hercules post Atlantem infracto virtutum robore honorarium pondus sustinens seu Perillustris et admodum Reverendus Pater, Pater Barlaam Iasinski, Vicarois sedis Metropolitane Kijoviensis (…), post Fata Perillustris ac admodum Reverendi Patris, Patris Innocentii Giziel, Archimandritae Pieczariensis, emeritum eiusdem Archimandriae munus cum festivo omnium applausu subiens. Chernihiv, w Drukarni Świętotrojaieckiej Ilińskiej, 1684.
Jaworski S. Pełnia nieubywaiącey chwały w herbowym xiężycu z trzech primae magnitudinis lumiarzow, Barłaama Swiętego Pustelnika, Barłaama Swiętego Męczenniak, Barłaama Swiętego Pieczarskiego, iednegoż dnia nowrbra 19. Na niebie cerkiewnym swiecących (…) Barłaamowi Iasinskiemu, Prawosławnemu Archiepiskopowi Metropolicie Kijowskiemu Halickiemu y Wszystkiey Rossiey (…) perezentowana. Kiev, 1691.

B. Secondary literature
Awianowicz B. Progymnasmata w teorii i praktyce szkoły humanistycznej od końca XV wieku do połowyXVIII wieku. Dzieje nowożytnej recepcji Aftoniosa od Rudolfa Agricoli do Johanna Christopha Gottscheda, Toruń, Wydawnictwa Naukowe UMK, 2008.
Awianowicz B. Die Progymnasmata-Sammlungen und der Glaubenskampf des 17. Jahrhunderts, in: U. Heinen (ed.) Welche Antike? Konkurrierende Rezeptionen des Altertums im Barock, I. Wiesbaden, Harras-sowitz Verlag, 2011, 477–489.
Bennett C. E. (ed., transl.). Horace. Odes and Epodes. Cambridge, MA — London, Harvard University Press, 1968.
Brogi Bercoff G. Constructing Canons: Ruthenian Literature of the 17th–18th Centuries in Plurilingual Context, in: M. Garzaniti et al. (eds). Contributi Italiani al XV Congresso Internazionale degli Slavisti, Firenze University Press, 249–272.
Brogi Bercoff G. Wybory językowe, tożsamościowe i religijne pisarzy ruskich w Rzeczpospolitej XVII–XVIII w. , in: W. Walczak, K. Łopatecki (eds). Stan badań nad wielokulturowym dziedzictwem dawnej Rzeczypospolitej, VI. Białystok, Instytut Badańnad Dziedzictwem Kultorowym Europy, 2013, 497–513.
Brogi Bercoff G. Plurilinguism and Identity: Rethinking Ukrainian Literature of the Seventeenth Century Ukraine and Europe, in: G. Brogi Bercoff, M. Pavlyshyn, S. Plokhy (eds). Ukraine and Europe. Cultural Encounters and Negotiations. Toronto, Toronto University Press, 2017, 45–71.
Crinitus P. Cl(audii) Claudiani Poetae Celeberrimi Opera, quorum catalogum, post eius vitam ex Petro Crinito ac
Demandt A. Novus Hercules — Novus Alexander. Das politische Rollenspiel in der Antike, in: H. Piegeler, I. Prohl, S. Rademacher (ed.) Gelebte Religionen. Festschritft für Hartmut Zinser. Würzburg, Königshausen & Neumann, 2004, 81–96.
Fedotova M. A. The Epistolary heritage of Dmitry Rostovsky: Studies and Texts. Мoscow, Indrik, 2005 (In Russian)
Ficino M. Divini Platonis opera omnia quae exstant. Marsilio Ficino interprete. Frankfut am Mein, Claudius Marnius et haeredes Ioannis Aubrii, 1602.
Ficino M. Platonic Theology. Vol. I: books I–IV. English translation by M. J. B. Allen with J. Warden. Latin text edited by J. Hankins with W. Bowen. Cambridge, MA — London, The I Tatti Renaissance Library, 2001.
Golt G. Oestrium poeticum ephemericum quod ad Davidis citharam excitavit ac quotidianis Dei laudibus consecravit… München, Johann Lucas Straubius, 1712.
Grendler P. F. Jesuit Schools and Universities in Europe 1548–1773. Leiden — Boston, Brill, 2019.
Jabłonowski A. Akademia Kijowsko-Mohilańska. Zarys historyczny na tle rozwoju ogólnego cywilizacyi zachodniej na Rusi. Cracow, Drukarnia A. L. Anczyca i Sp., 1899–1900.
Kapp V. Argutia-Bewegung, in: G. Ueding (ed.) Historisches Wörterbuch der Rhetorik, 1. Tübingen, Max Niemeyer Verlag, 1992, 991–998.
Kraus M. Progymnasmata, Gymnasmata, in: G. Ueding (ed.) Historisches Wörterbuch der Rhetorik, 7. Tübingen, Max Niemeyer Verlag, 2005, 159–190.
Kroll W. "Poeta laureatus" Stefan Jaworski i embleatyka. Terminus 2018, 20, 2 (47), 195–253.
Kwiatkiewicz J. Svada civilis oratoriae atque politiae nostratis ingenio accomodata, ut et Phoenix rhetorum, in quo fundamenta necessaria et species rarioris eloquentiae ostenduntur… Wrocław, Johann Adam Kästner, [1679?].
Kwiatkiewicz J. Phoenix rhetorum seu rarioris Atticisimi, nec vulgaris eloquentiae fundamenta in usum oratorum proposita. Prague, Typis Academicis in Coll(egio) S(ocietatis) I(esu), 1690.
Lambin D. Q. Horatius Flaccus: nuper ex fide et auctoritate multorum codicum manu scriptorum opera Dionys(ii) Lambini Monstroliensis emendatus et commentariis illustratus… Antwerp, Ioannes Bellerus, 1584.
Łużny R. Pisarze kręgu Akademii Kijowsko-Mohylańskiej a literatura polska. Z dziejów związków kulturalnych polsko-wschodniosłowiańskich w XVII-XVIII w. Kraków, Uniwersytet Jagielloński, 1966.
Masen J. Ars nova argutiarum eruditae et honostae recreationis, in duas partes divisa. Prima est epigrammatum, altera inscriptionum argutarum. Köln, Joann Anton Kinckius, 1660.
Maslov S. I. Stefan Yavorsky's Library. Kiev, 1914. (In Russian)
Minell, J., Rappolt F.: Quintus Horatius Flaccus cum notis marginalibus Johannis Minellii et D(omini) Friderici Rappolti […] commentario […], nec non Joachimi Felleri […] supplemento… Leipzig, Christophorus Uhmann, 1675.
Morosov A. A. Metaphor and allegory by Stefan Yavorsky, in: Poetics and stylistics of Russian literature. In memory of academician V. V. Vinogradov. Leningrad, 1971. (In Russian)
Niedźwiedź J. Nieśmiertelne teatra sławy. Kraków, Książnica Akademicka, 2003.
Niedźwiedź J. Jesuit Education in the Polish-Lithuanian Commonwealth (1565-1773). Journal of Jesuit Studies 2018, 5, 441–455.
Nikolaev S. Stefan Iavorsky (1658–1722), in: M. C. Levitt (ed.) Early Modern Russian Writers, Late Seventeenth and Eighteenth Centuries. Detroit — Washington, D. C. — London, A Bruccoli Clark Laymon Book, 1995, 116–119.
Patillon M. (ét., trad.). Corpus rhetoricum. Anonyme, Préambule àla rhétorique, Apththonios, Progymnasmata. Paris, Les Belles Lettres, 2008.
Pelc J. Słowo i obraz. Na pograniczu literatury i sztuk pięknych. Kraków, Universitas, 2002.
Picinelli F. Mondo simbolico formato d'imprese scelte, spiegate ed illustrate con sentenze, ed eruditioni, Sacre, e Profane… dell' Abbate D(omino) Filippo Picinelli Milanese… Milan, Nella Stampa di Francesco Vigone, 1680.
Picinelli, F.: Mundus symbolicus, in emblematum universitate formatus, explicatus et tam sacris quam profanis eruditionibus ac sententiis illustratus…, vol. 1, Cologne, Sumptibus Hemranni Demen, sub signo Monocerotis, 1681
Platnauer M. (ed., transl.) Claudian in Two Volumes. London — New York, 1922.
Poelmann Th. Cl(audius) Claudianus Theod(ori) Pulmanni Craneburgii diligentia et fide summa e vetustis codicibus restitutus. Antwerp, Christophorus Plantinus, 1571.
Poelmann Th., Delrío M. A. Cl(audius) Claudianus Theod(ori) Pulmanni Graneburgii diligentia et fide summa e vetustis codicibus restitutus et Martini Antonii Del-Rio notis illustratus. Cologne, Petrus de la Rouiere, 1612.
Pontanus J. In P. Ovidii Nasonis poetarum ingeniosissimi Tristium et De Ponto libros novi commentarii, item Hortuli Ovidiani, id est Sententiae et proverbia ex quotquot Poetae monumentis a eodem conquisita in locos communes redacta et commentationibus explicata. Ingolstadt, Adam Sartorius, 1610.
Saavedra Fajardo Diego de. Idea Principis Christiano-Politici 101 Symbolis expressa. Amsterdam, Iodocus Pluymer, 1660.
Sarbiewski M. K. Wykłady poetyki (Praecepta poetica), in: S. Skimina (ed.) Biblioteka Pisarzów Polskich, ser. B, no. 5. Wrocław, 1958.
Shackleton Bailey D. R. (ed.). Q. Horatius Flaccus. Opera. Stuttgart, Teubner, 1985.
Siedina G. The Teaching of Lyric Meters and the Reception of Horace in Kyiv-Mohylanian Poetics, in: G. Siednia (ed.) "Latinitas" in the Polish Crown and the Grand Duchy of Lithuania. Its Impact on the Development of Identities. Firenze University Press, 2014, 99–130.
Siedina G. Horace in the Kyiv Mohylanian Poetics (17th — First Half of the 18th Century): Poetic Theory, Metrics, Lyric Poetry. Firenze University Press, 2017.
Słomak I. "Phoenix rhetorum" Jana Kwiatkiewicza. Wprowadzenie — przekład — opracowanie. Warszawa, Wydział Polonistyki UW, 2016.
Ternovskii F. A. Essays from the history of the Russian hierarchy in the 18th century. Stefan Yavorsky. Drevniaia i novaia Rossiia, 1879, 8, 305–320.
Treadgold D. W. The West in Russia and China. Religious and Secular Thought in Modern Times. Vol. 1: Russia, 1472–1917. Cambridge, 1973.
Zakhara I. S. Stefan Yavorsky. L'viv, Kameniar, 1991.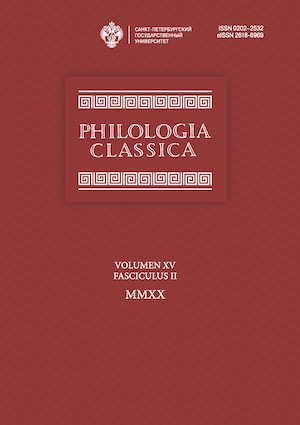 Как цитировать
Awianowicz, B. (2021). The Classical and Jesuit Erudition of Stefan Iavorskii in His Panegyrics to Varlaam Iasinskii. Philologia Classica, 15(2), 246-260. https://doi.org/10.21638/spbu20.2020.205
Раздел
Latinitas media et nova
Статьи журнала «Philologia Classica» находятся в открытом доступе и распространяются в соответствии с условиями Лицензионного Договора с Санкт-Петербургским государственным университетом, который бесплатно предоставляет авторам неограниченное распространение и самостоятельное архивирование.